Hello my name is Chelsea Ebrecht. My husband Justin and I began searching for our first home in August 2021. My husband is a veteran and we wanted to use his VA loan. We were both very nervous because buying a home is a daunting process. We have been told that it is very hard to buy a house and to be prepared to loose quite a few offers before one was excepted. At first we were having a hard time with some realtors. You see, Justin and I had spent our savings to build our credit and we had very little left for Earnest money and inspections. We did not have enough for closing costs. We had always hoped to ask for closing costs in our offer but were told that in this market that was impossible and we shouldn't even try to ask. On the verge of giving up, Justin reached out to a family friend. He asked us if we were going through Homes for Heroes. We had no idea what that even was. Our friend immediately got us in touch with Mike Stover. When we first met Mike, it felt like we were meeting family. He listened to our story and said he would fight for us to find a home. He even understood our financial situation and said he would absolutely try to get us closing costs in the offer. He also put us in touch with an amazing lender Scott Collins, who knows the VA loan in and out. We then hit the ground running and within 3 weeks we found a home that I loved. True to Mike's word we asked for closing costs in our offer. This home had many offers and they narrowed it down to ours and two others. Unfortunately we were not picked. However since Mike spoke with the seller's agent and told them how much we loved there house they offered us a back up position in case the first offer fell through. Three days later, we got a call from Mike saying that the first offer fell through and they wanted to know if we were still interested! Of course we said yes and then the process was so fast and easy! We closed exactly one month and one day from putting in our offer. When getting our keys from the sellers agent, she told us how much work Mike put in for us and that he is an amazing realtor. So here we are! We have the home we wanted in the budget we wanted and with closing cost covered! We are so very grateful for Mike and everything he did! We will recommend him and his team to everyone we know and we will definitely call them when we buy our next home!!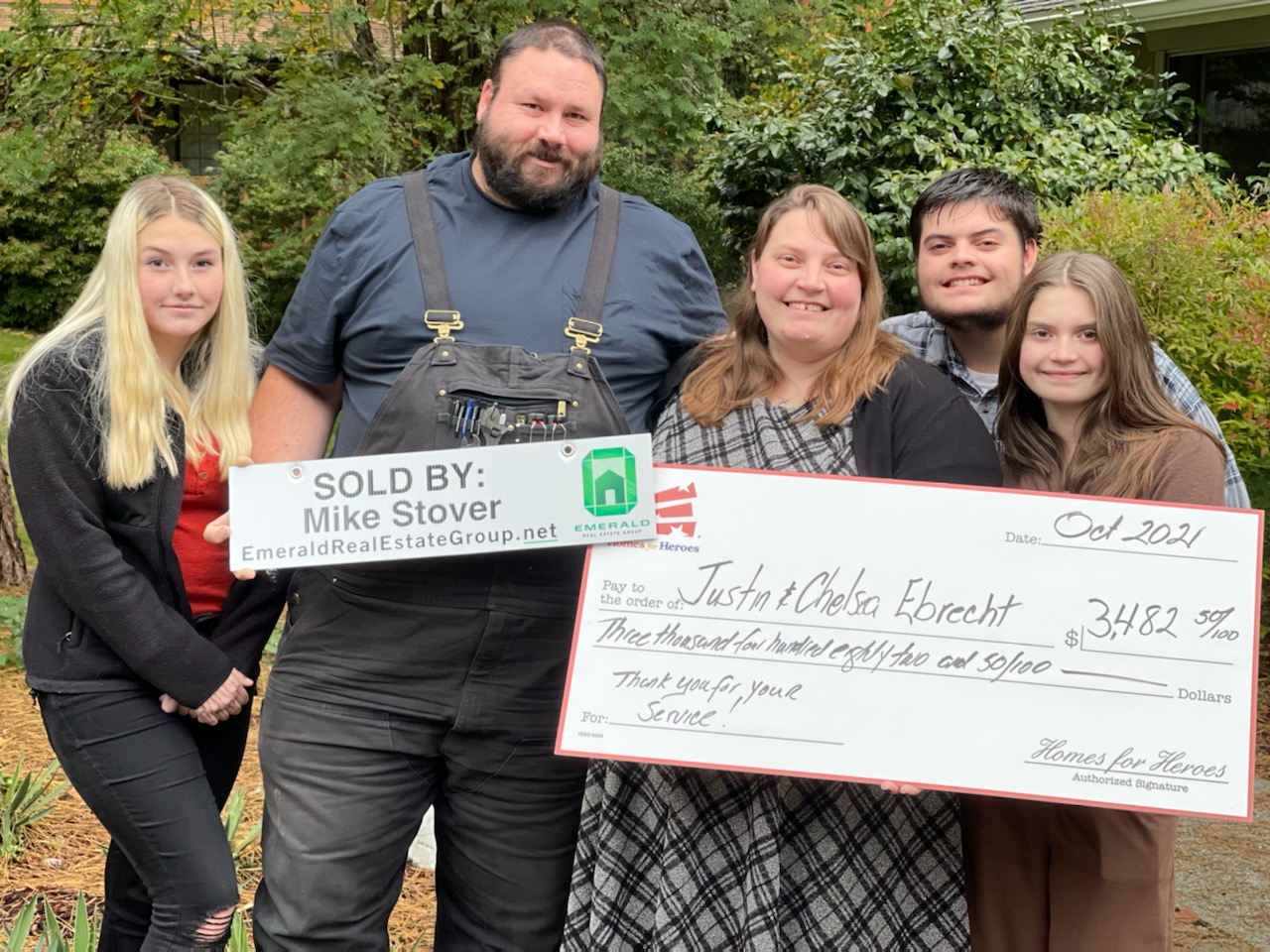 Thank you Mike for treating us as family and making our lifelong dream of buying a home come true!
My name is John Grey and this letter is about an extraordinary young, devoted wife, mother, and realtor Megan Smet. I didn't meet Megan looking for a realtor, she just happened to be sitting next to my wife Marilynn and myself, with her husband James in a restaurant. We became engaged in some very pleasant conversations. I found out she was a realtor and that her company Emerald Real Estate Group had some very special, very generous programs that helped support Veterans. I also found out that her husband James had served in the Army like I did. I asked Megan for her card and told her we were going to sell our lake house on Long Lake, in Lacey, WA.
Now Megan lives some 50 minutes from Long Lake which I must admit was somewhat of a concern to us, but I was amazed at what a tremendous work ethic, incredible amount of knowledge, drive, and organizational skills she possesses. Personal, professional, and totally driven to help sell our property which was a somewhat large, atypical home. This required her to market and find the right buyer for the sale which she accomplished during a GLOBAL PANDEMIC.We had her screening qualified buyers and showing our property many times a week, even over Thanksgiving and Christmas Holidays, during rain, snow, and hail. If a buyer wanted to see the house she was there, and the house sold for the price she recommended.
Thank You Megan Smet and Emerald Real Estate Group and thank you James for sharing your wife with us and for your help and service to our country.
Sincerely,
John Grey and Family
"John is always a pleasure to work with! We did not hesitate to call him to be our real estate agent again. He helped us find our first home over 3 years ago and just recently helped us sell and then buy our second home. We love how responsive he is and that we can text or call anytime. John goes above and beyond what I would expect out of a real estate agent and has come to feel like a part of our family. After being in our new house just over a month, we had some packages accidentally go to our old address. John contacted to buyers and picked the packages up himself and then drove out of his way to hand deliver the packages to us! He is a wonderful real estate agent, very knowledgeable and kind and I would recommend him to anyone.
Thanks for all you do and have done for us! We always enjoy working with you."
– Amy and Dustin
Kelly Stewart sold our house in one week, at full asking price. Even before we listed the house Kelly was already working with us advising where to spend money prepping our home for sale. She has been a Realtor for many years and the experience shows, she is at the top of her game and we are extremely happy we had her for our Realtor in Seattle.
– Doug H.