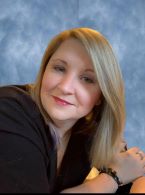 Homes For Heroes
April Kollmorgen
I was born and raised in Milwaukee, Wisconsin. Many of your preconceived notions of the area and what it's known for will carry through into getting to know me. I love all things Harley Davidson, Green Bay Packers Football, Milwaukee Brewers Baseball and Wisconsin Badgers sports. Friday nights we do fish fry and we enjoy a good beer. If you ask my husband, I still have an "accent" and say certain words funny to him.
I am also a 30+ year member of the American Legion Auxiliary, back in Wisconsin and participate long distance as I can. I have a special place in my heart for Veterans and enjoy doing what I can to help them.
So what took me out of Wisconsin? The Navy! My husband, Kris is Active Duty Navy, so I packed up and moved to Kitsap County, where we have been ever since. Kris is still Active Duty Navy and is a Missile Technician Chief stationed on Naval Base Kitsap – Bangor. We now live in Poulsbo and have made it our home. We have one daughter, Addison, who joined us in 2011.
As a family, we have a lot of different interests and activities we like to do together. We have a love of dogs, specifically pugs and our chiweenie. I really enjoy reading and knitting and spending time on our local beaches and at the Coast. Kris finally got his own Harley a couple years ago and is now a member of the Brothers in Arms Motorcycle Club, West Puget Sound Chapter. We enjoy motorcycle rides together and fundraising with the Club for local Veterans. We don't get out to travel a lot, but we do like being outdoors and can be found playing Pokemon Go around the county or at home watching Futurama. We enjoy cooking and baking together and have a love of baking shows too! There's lots more to share, so come chat with me over some coffee or a good beer and get to know me better.
Documents